Sébastien Després and Le Moque-Tortue: Portrait of this Shediac business
Posted on Tuesday October 08, 2019
Sébastien Després and Le Moque-Tortue: Portrait of this Shediac business
As you stroll down Main Street in Shediac, if you come across a white rabbit, follow it! You may end up at Le Moque-Tortue ("the Mock Turtle"), an original bistro finding its inspiration in Alice in Wonderland that combines good food and board games to create a singular experience. This one-of-a-kind project is the brainchild of an equally one-of-a-kind entrepreneur, Sébastien Després.
A bistro unlike any other: quesadillas and card games
Le Moque-Tortue is, first and foremost, a restaurant. It stands out among other establishments that combine food and board games for the quality of its menu and its culinary approach. "A lot of people start out with the idea of providing board game enthusiasts a place to get together and offer them something to munch on between games. Here, we do the opposite: people come here for the amazing food first, and the games follow naturally."
A successful concept, one step at a time
Sébastien didn't come up with his bistro's name by drawing it out of a hat. Le Moque-Tortue is the outcome of long reflection. Building on the adventures of Alice's adventures in a fantastic world, every aspect of this business project is imbued with fantasy and references to the original story (the Mock Turtle being one of the nonsensical characters the young girl encounters on her journey).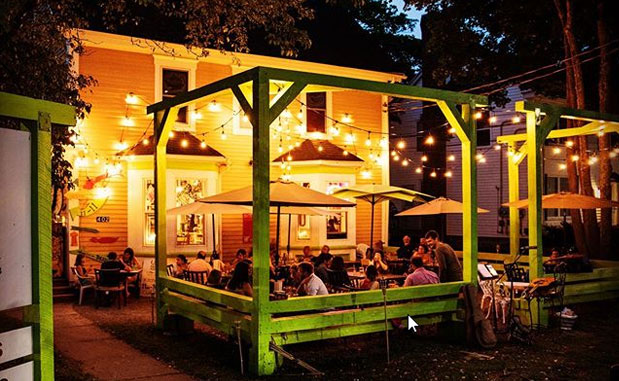 A whimsical setting
The decor of the dining room includes a hundred or more paused clocks to enhance that feeling of getting away from everything. Along the walls, boxes of every shape and colour are stacked up to the ceiling—the owner's personal board game collection and the largest collection of board games available for play in Atlantic Canada.
Family atmosphere, trendy clientele
Open from 11:00 a.m. to 11:00 p.m. daily, the bistro attracts a diverse crowd. "Here inside, you might see a woman playing with her grandson, while out on the patio people are sipping martinis and talking business."  However, everyone is seeking the same thing: that feeling of escaping the real world to throw the dice a few times over a shared mac 'n' cheese.
Lobster a recurring theme from decor to table
With the arrival of the tourism season, crowds descend upon Shediac every year looking for new food experiences. "All our customers, whether local or from around the world, are looking for food that tastes and looks good."  The choice to design a menu showcasing lobster among other local products seemed natural for the owner, a self-confessed foodie.
The restaurant offers 12 different lobster dishes. His personal fave? The lobster roll. "Shediac holds the Guinness world record for the world's longest lobster roll, and I hold the record for the shortest," he jokes. Keep in mind though that there will be three of them on your plate!
In addition to its enticing food menu, Le Moque-Tortue quietly offers the best-stocked bar in town, serving up an impressive variety of original cocktails like Shediac Island Iced T and the Tricolore acadien.
An entrepreneurial path leading outside the box
Driven by a desire to return to his native Acadia after 15 years in Newfoundland, Sébastien decided to settle in Shediac. After earning a Ph.D., serving as mayor of Witless Bay and starting up a music school, he wanted to come home.
However, with no positions available in his field at the university, he had to rethink his goals. Out of this reflection process was born Le Griffon, the B&B next door to the bistro, and Le Moque-Tortue. Evidently, necessity does indeed drive creativity.
Advice for young entrepreneurs
Starting up a business involves making a lot of choices. Sébastien takes a few moments to choose and weigh his words before offering this advice:
" It's important to make the right decision
and then embrace it with everything you've got."
Le Moque-Tortue is imbued with that special energy that only family-run enterprises seem to have. "It's a business developed around (his youngest child's name is Alice!) and for our family."  Now, if the owner were a board game, which would he be? "I'd be Terraforming Mars. You have to run a corporation and try to make the planet habitable and improve life there." If Sébastien Després were a playing card, there's no doubt his suit would be hearts.