Mind at Peace: A dynamic duo of women entrepreneurs committed to your wellbeing
Posted on Thursday March 03, 2022
Mind at Peace: A dynamic duo of women entrepreneurs committed to your wellbeing
In our series profiling women entrepreneurs, we introduce you to two exceptional Acadian women whose commitment to the community has had numerous positive impacts. Read on to discover their inspiring story!
With over twenty years of experience in mental health, psychologist Eve Arseneau and clinical social worker Marie-Pierre Godin joined forces in 2018 to open the Mind at Peace Centre, a multidisciplinary clinic offering a range of professional services. Three years later, in 2021, they were named Business of the Year by Conseil économique du Nouveau-Brunswick—a prestigious nod from the business community.
How did two therapists rise so quickly in the world of business? What's the secret of their success? They tell us about their journey, their mission and what makes their approach different.
Therapists with a keen business sense
Energetic, proactive, well organized and brimming with ideas—these words most certainly describe Eve Arseneau and Marie-Pierre Godin. Before they met, Eve and Marie-Pierre studied, travelled, worked in various parts of the public sector and developed solid expertise in mental health. It was working in youth services (child-youth teams) where their paths first crossed.
"We clicked right away," says Eve. "We have the same passions, the same interests. We're both adventurous and driven, and we want to help others." Marie-Pierre adds, "We have different backgrounds, but they complement each other beautifully."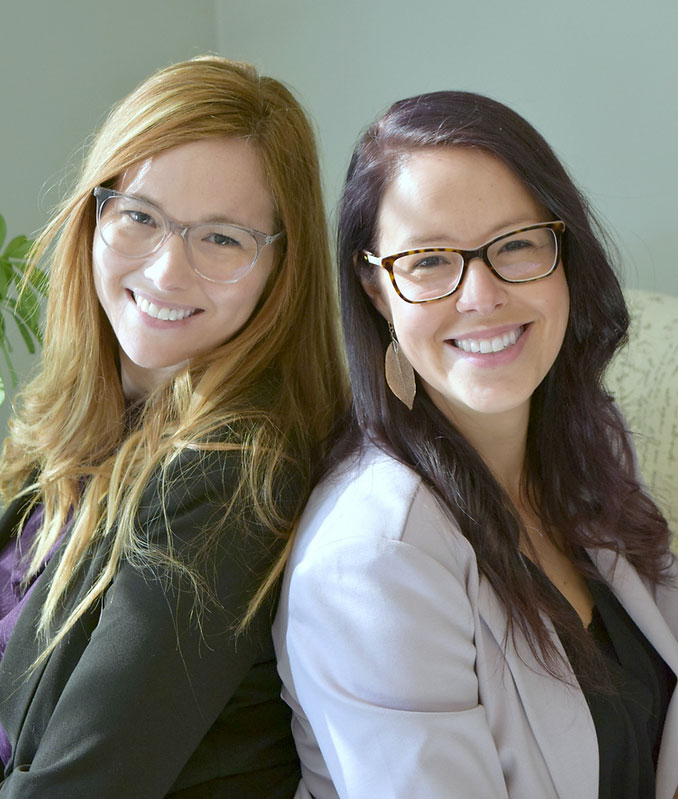 A rapidly expanding business
Eve and Marie-Pierre's partnership dates back to 2016, when the two women decided to share an office in downtown Bathurst during evenings and weekends. To meet growing demand, they soon rented a second office space and formed a team of four therapists. But that wasn't enough! "It really took off!" Eve continues. "So we decided to open a multidisciplinary centre to go further and launch a number of projects."
Birth of the Mind at Peace Centre
In 2018, the pair bought a house in Bathurst to convert it into a clinic. The Mind at Peace Centre was born. Its mission? To provide access to a range of professional services under one roof to meet clients' needs in a holistic, interdisciplinary way. So they set out to find massage therapists, acupuncturists, dietitians, speech-language pathologists and other specialists to complete their team.
Four years later, twenty-seven people now work at the Centre and a second house—next door to the first—has been added to meet ever-increasing demand. A new clinic was also opened in Campbellton in June 2021. You could say these therapist/entrepreneurs are on a roll!
Holistic care and flexibility: Client-focused service
At the Mind at Peace Centre, clients benefit from a warm welcome, short wait times and a collaborative approach to ensure comprehensive care.
"We all work as a team," Eve explains. "For example, if someone comes to me with an eating disorder, I'll get a dietitian to work on the case with me." The key to success is communication among the therapists, who pool their tools and expertise in order to achieve a common goal.
The two managers also offer flexibility to accommodate clients' schedules when possible. "For example, if a mom has two kids who use our services, we'll try to book their appointments close together. We know what it's like to manage a family schedule!"
Projects in the community
Beyond their work at the Centre, Eve and Marie-Pierre have forged a range of partnerships to meet as many needs as possible in the community. "We are very aware that not everyone can afford the services at our private clinic. But mental health issues affect more than one segment of society. By working with schools and various organizations, we're trying to reach vulnerable populations that wouldn't otherwise have access to the help they need because they can't afford it.
"We work with youth through workshops and with newcomers in collaboration with the Multicultural Association Chaleur Region. We also offer services to First Nations, sports teams and parents dealing with perinatal bereavement. We try to develop projects in response to what the community needs."
The Mind at Peace Centre: A great place to work
Over the years, the Mind at Peace Centre has built a reputation as an employer of choice. "We have so many people asking to come work with us. The wellbeing of our employees is extremely important to us, and word gets around," says Marie-Pierre. "Respecting their creativity is part of our values. We encourage everyone to create projects that resonate with them. The more freedom an employee has to express their ideas, the more proactive they are and the more they progress exponentially—which benefits them, the Centre and our clients. It's a win-win-win!"
"Our goal was to create the jobs of our dreams and to benefit as many people as possible," Eve explains. "It's important to combine work with pleasure. The workload can get heavy at times, so we have to find ways to lighten it. And since almost all of us are young mothers, we make sure we're flexible. We've seen it in practice—when you work in a rigid workplace, anxiety and fatigue increase and wellness is compromised."
A winning team
How does managing a business together work? "Since we work in the field of therapy, communication is one of our strengths. It helps! We talk a lot and we respect each other," says Eve. "We're good at recognizing our strengths and we divide up our tasks accordingly," Marie-Pierre adds. "The way we complement each other lets us to continue to grow and move forward together."
Both agree that teamwork makes things much easier. "We're businesswomen—that's important to remember. But in addition to the business, we also have household and family responsibilities. Since there are two of us, we're able to find a better balance between work and family."
A pat on the back from New Brunswick's business community
In 2021, Eve and Marie-Pierre saw their efforts recognized with an award for Business Excellence from the Chaleur Chamber of Commerce as well as the prestigious Business of the Year award from Conseil économique du Nouveau-Brunswick. "Honestly, we were in shock for a while," Eve admits. "There are so many great companies in the province; we couldn't believe it. This wonderful tribute is down to our amazing team of capable women, who are full of empathy and kindness."
Women entrepreneurs of tomorrow: Be bold!
If Eve and Marie-Pierre had one piece of advice to give a young woman dreaming of starting a business, it would be to be bold and go for it. "As women, thinking about all our family responsibilities plus the time it takes to start a business can be daunting. But all the pieces eventually fall into place," Marie-Pierre insists. "Don't let your fears stop you from achieving your dreams. Surround yourself with people who believe in you."
Eve and Marie-Pierre were fortunate to meet Manon Pelletier, an account executive at UNI, when they were in the early stages of their project. "She really believed in us. She shared our values and wanted to see our project get off the ground to help the community. She has definitely contributed to the Centre's success."