May 19, 2020 | The Government of Canada recently announced that the eligibility criteria for this program will be expanded. Stay tuned. This page will be updated as soon as the new criteria are finalized by the government.
IMPORTANT: If you become eligible as a result of the expanded eligibility criteria, please wait for the update before submitting your application.
0% interest
until December 31, 2022
Forgiveness of
$10,000
of capitalif $30,000 is paid back by December 31, 2022
This federal program provides interest-free loans of up to $40,000 to small businesses and not-for-profits experiencing temporary financial hardship to help cover their operating costs.
For any questions, call 1-888-359-1357. As we have a high call volume, we thank you in advance for your patience.
To qualify, businesses must meet the following requirements:
Be a Canadian business in operation on March 1, 2020.
Be registered for federal tax.
Demonstrate that the company's total payroll was between $20,000 and $1.5 million in the 2019 calendar year (this information is available on your business's "T4 Summary of Remuneration Paid").
Have an active business chequing account with UNI that was opened before March 1, 2020.
Have as its primary financial institution.
Not have been more than 90 days delinquent on existing borrowing facilities on March 1, 2020.
Not have previously used or applied to the Program at any other financial institution.
The eligibility criteria were provided to us by the government and cannot be adjusted by UNI.
Businesses that do not qualify include:
Government organizations or bodies, or entities owned by a government organization or body
Unions, charities, religious or fraternal organizations, or entities owned by such organizations except if a registered T2 or T3010 corporation that generates a portion of its revenue from the sales of goods or services
Entities owned by individuals who hold political office
BEFORE COMPLETING YOUR APPLICATION, PLEASE HAVE THE FOLLOWING ON HAND:
Your business's 2019 "T4 – Summary of Remuneration Paid"
Your Employer's account number (15 characters) as registered with the Canada Revenue Agency and indicated in the field "Employer's account number"
Your employment income as indicated on line 14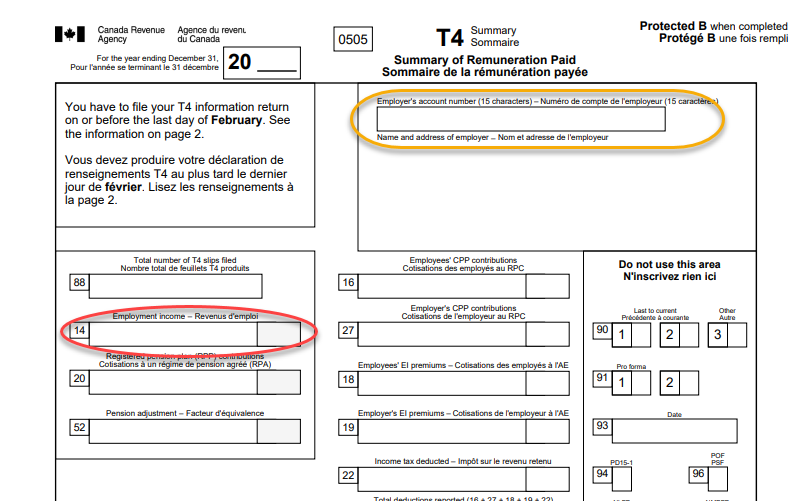 The transit number and the folio number of your business account with UNI.