Robert Moreau named one of Atlantic Canada's Top 50 CEO
Posted on Friday May 07, 2021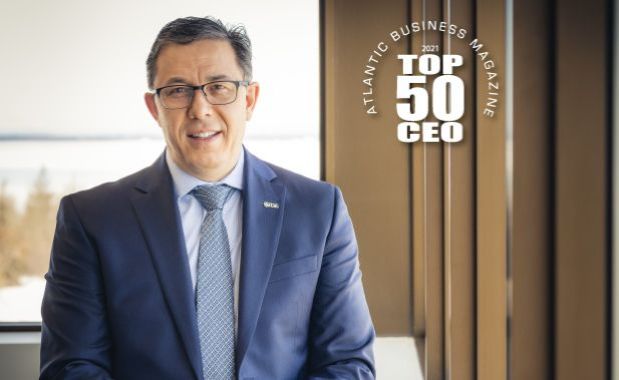 Robert Moreau named one of Atlantic Canada's Top 50 CEO
UNI Financial Cooperation is pleased to congratulate our CEO, Robert Moreau as one of this year's recipients of the prestigious Atlantic Canada Business Magazine's Top 50 CEO Awards.
Mr. Moreau's corporate leadership during the pandemic ensured that as an essential service, UNI continued to serve its members and its clients in a safe and secure way, all the while protecting everyone's health. In fact, UNI invested over 1 million dollars to adapt its physical business locations and to also develop online services. These transformations accelerated several key initiatives that Mr. Moreau is spearheading to respond to the ever-changing digital banking environment.
"What makes this recognition particularly significant for me is that it comes at a time when our organization, and in particular our employees, demonstrated unwavering solidarity, responsibility, and courage, during this challenging period. I am very proud of our accomplishments and our progress."
In 2020, consolidated financial results continued to improve where UNI posted its best financial results of the past six years. Over the last 3 years, UNI has seen its business volume increase by 14 %, its off-balance sheet arrangements by 70% and profitability increased by 45 %.
"Since Mr. Moreau's appointment in 2017, UNI has been on a growth trajectory. Under his direction, management and the Board have pursued a vision of improving all facets of UNI's performance and set it on a course to deliver better results for its stakeholders" said Pierre-Marcel Desjardins, Chair of the Board of Directors. "I want to congratulate him for his well-deserved award and the commitment he's had to evolving UNI for the benefit of its employees, its members, its clients and the economy of this province".
Conscious of the invaluable contribution of small and medium-sized businesses to the New Brunswick economy, Mr. Moreau is actively involved in the business community. He currently sits on the boards of the New Brunswick Business Council and the Canadian Credit Union Association and acts as Atlantic delegate to The Co-operators.
His commitment to growing the local communities' prosperity and vitality has led to the development of many programs at UNI, which support citizen-driven efforts. Over the past three years, more than seven million dollars has been invested in the community through donations, scholarships, and sponsorships.
About the Top 50 CEO Awards
Since 1999, Atlantic Business Magazine has dedicated one of its six issues per year to profiling Atlantic Canada's most accomplished business leaders. The intention is to give a worthy individual the recognition he/she deserves as well as to use their example to inspire other companies and business leaders to achieve similar success.
About UNI Financial Cooperation
With $4.8 billion in assets and 900 employees, UNI Financial Cooperation, celebrating its 85th anniversary this year, is a major economic player that contributes actively to a thriving, growing economy in New Brunswick and beyond. UNI is committed to values of solidarity, responsibility and courage for the greater benefit and prosperity of the organization and its members and clients. To learn more, visit uni.ca.
Media Contact
Françoise Roy
Vice-president, Communication, Marketing and Community
UNI Financial Cooperation
francoise.roy@uni.ca